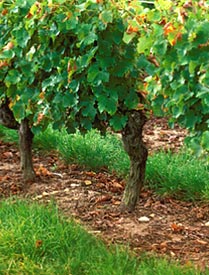 Location : At the top of the hill overlooking the gentle slopes down towards the Loire River. Superb panoramic view over the whole vineyard.
Exposure : South and west exposure - altitude 265 m.
Geology : Kimmeridgian marl - cretaceous.
Terroir : Flinty clay, producing well structured wines with good ageing potential :
the best known estates have parcels of vineyards here
the wines produced on this hill are sought after by the best merchants.
Climate : Temperate with oceanic influence. Mild temperatures and light early morning mists due to the proximity of the Loire River.
Grape variety : Blanc Fumé (Sauvignon) :
0.35 ha of old Chasselas Doré vines
In addition to a selection of low yielding, high quality clones,
we have been selecting and propagating our own plants on the estate since 1930.
Vineyard management : traditional cultivating methods, including ploughing and putting land under grass on the hillsides.
Pruning : single Guyot, Cordon Royat
Age : the oldest vines are 65 years old.
Surface area of the domaine : 22 ha
Monuments on the domaine : two stone carved crosses (Riaux and Les Satins).
Shooting game : not on the estate.
Groups welcome : please contact us